Our Workshop
The sewing workshop is a one of a kind space in Toronto, where beginners, intermediate and advanced sewers can learn and improve their sewing skills.

It is a place where a beginner can feel comfortable working on easy sewing projects and more advanced students can work on more complex ones. You can learn pattern making, garment sewing from start to finish, fine finishing, alteration, remodeling, curtain making and accessories.
It space provides all the sewing equipment you need.

Our Mission
The Sewing Workshop is a women-owned business providing an inspirational, supportive environment for female students to express their individuality by creating their own clothing and clothing accessories. Tools, resources and advice are available in a professional yet comfortable workspace that encourages the free exchange of ideas between all skill levels.

We Provide:
Sewing Machines
Cutting Table
Scissors
Thread
Pins and Needles
Measuring Equipment
Pattern Paper
and much more


Private Lessons
One on one
Flexible schedule
Morning, afternoon and evening lessons are available
Please email your availability (days, hours and number of times a week you plan on attending lessons) and we will book you accordingly.
Please also mention in your email what you are interested to learn, how much experience you have and add your phone number.

Group Classes
Up to 6 students
Available only Sundays 3 to 6 pm.
Please email what you are interested to learn, how much experience you have and add your phone number.
About Nehzat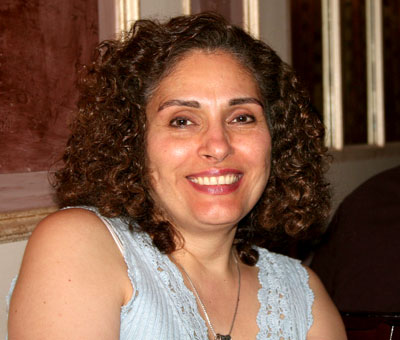 Nehzat Houshan has 50+ years sewing and 25+ years teaching experience and is the instructor and creator of The Sewing Workshop in Toronto.
The Sewing Workshop was created by Nehzat to share her love for creating and sewing. Her workshop is where inspiration and ideas flow through, enabling students to discover their talents.
Nehzat grew up in a family that has been working in the fields of art and fashion; giving her a flaming passion to create throughout her life. Having obtained a bachelor's degree in fine arts – design and sculpture – in Italy, has given Nehzat the ability to fully understand the human figure when it comes to designing and creating attire.
From the young age of four sewing became Nehzat's loved hobby, when she started to sew garments for her own, sister's and cousin's dolls. At ten years old she began to sew her own garments with the help and guidance of her mother. Afterward she received private professional tutoring from her aunt who had an institute in the fashion field.
From 1977 to 1987 she thought sculpting and design in a visual art high school, giving her professional teaching experience.
Her passion for sewing remained throughout Nehzat's life until 1987 when it became her profession. She started sewing custom made Haute Couture for clients in Rome and then in Toronto, where she setup her own studio boutique called Exclusive Designs. Now Nehzat wants to pass on her knowledge and experiences to other aspiring female students.
Nehzat's background and many years experience in teaching will help students achieve their goals and realize their imagination. Nehzat will support students in creating unique garments and accessories. Years of experience in designing and making various garments in Italy and Canada enables Nehzat to provide you with a professional class environment, helping you select appropriate materials and styles.
Nehzat is also the instructor and content creator for eSewingWorkshop.com - Online Sewing Videos. Visit her other site to see her teaching style and become more familiar with her work. There you can find many sewing video lessons available to her subscribers.